Exhibits & Displays
Club Layouts
---
On30 Gold Creek and Pine Cliff Railway
The Gold Creek and Pine Cliff Railway is made up of four 6' x 4' modules made with wood frames that support dense styrofoam bases. The scenery is mostly carved and painted foam with scratch built or modified commercial structures. The locomotives and rolling stock are all modified and custom lettered for members railroads. Weathering is done with a variety techniques including spray paint, chalks, stains and washes.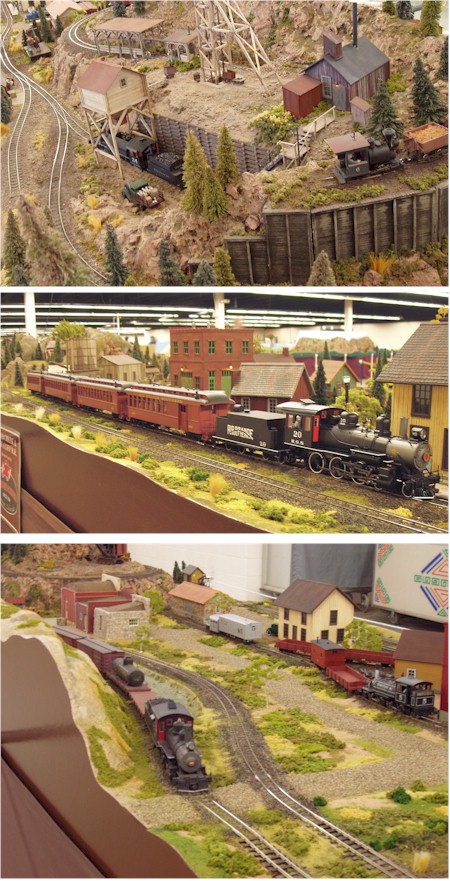 ---
MATI On30 Clear Creek Canyon layout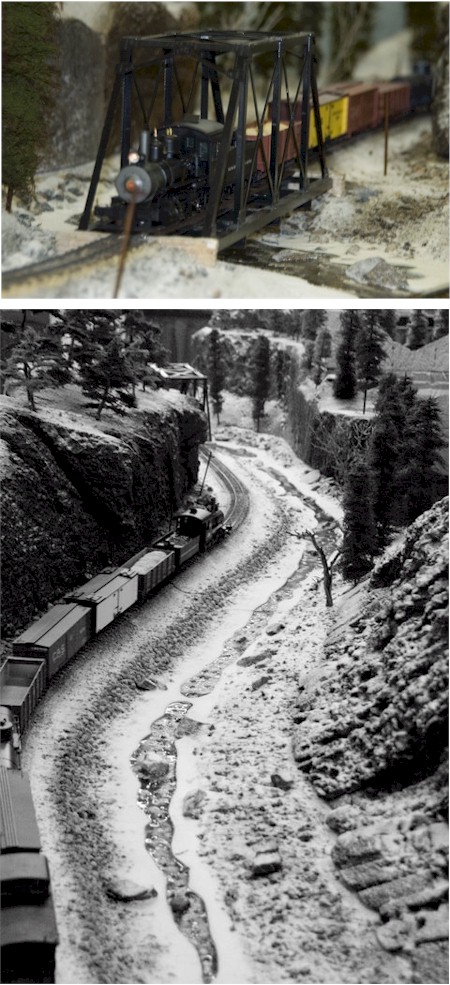 ---
BOULDER MODEL RAILROAD CLUB
The Boulder Model Railroad Club (BMRC) is based in Boulder County and serves members in Boulder, Broomfield, Adams, Jefferson Counties and beyond in Colorado. Club meetings are held on the 3rd Thursday of each month at 7:00 PM and visitors are always welcome. The venue is the Elk's Lodge, located at 525 Main Street in Louisville, in the "old part of town".
Members and guests meet at a local restaurant around 5:30 or 6:00 p.m. for an optional dinner beforehand. Consult our meeting schedule page for up-to-date information. For more information, please visit our web site at www.bouldermodelrailroadclub.org
The club is not focused around a club layout. However, in 2008, the club acquired a 'N' scale layout that is approximately 3' by 5' for the primary purpose of exhibiting at model train shows and other exhibitions which specifically promote membership in the BMRC and generally promote interest in the hobby of model trains.
BMRC 'N' SCALE CLUB LAYOUT
Our 'N' scale layout features two mainlines (a 'lower' and an 'upper') which give us the ability to run up to two trains continuously. We have a little of everything for the visitor to the layout. Along with the high-level of detail on the layout and structures, we also have numerous lighting (street and building) that draws a lot of interest for visitors viewing our layout. In addition to the two mainlines, there are two sidings, plus an extremely short mountain top mining line. Power and control of trains is via a DC analog power transformer.
And, here is a digital photo taken at a recent exhibition: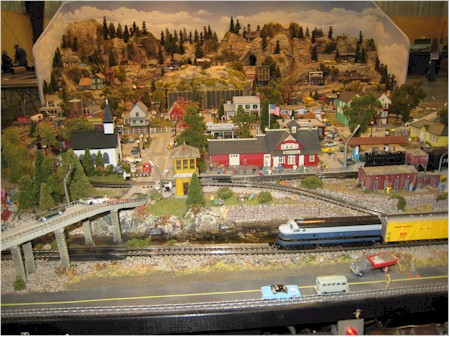 ---
Youth in Model Railroading
Youth in Model Railroading is the only model railroad club JUST for kids. Membership is open to any young person boy or girl ages 8 - 18. YMR meets the first Sat of each month from 9:30 - 12:00. We teach the new members basic modeling techniques. The older members learn more advanced skills. We have modular layouts in N scale, HO scale, O gauge, G gauge and even Lego trains.
Check out our website: www.YMR-online.org
or Facebook - www.facebook.com/pages/YOUTH-in-MODEL-RAILROADING.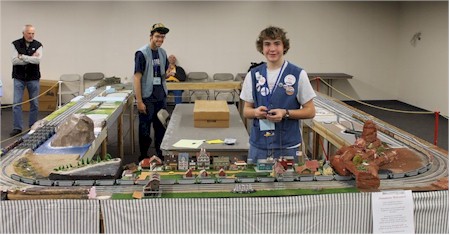 N Scale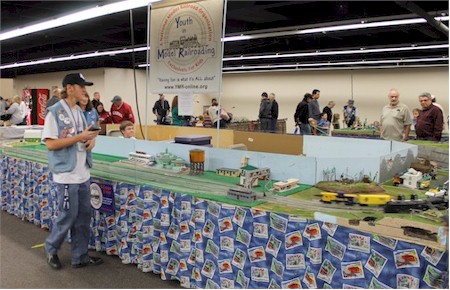 O Scale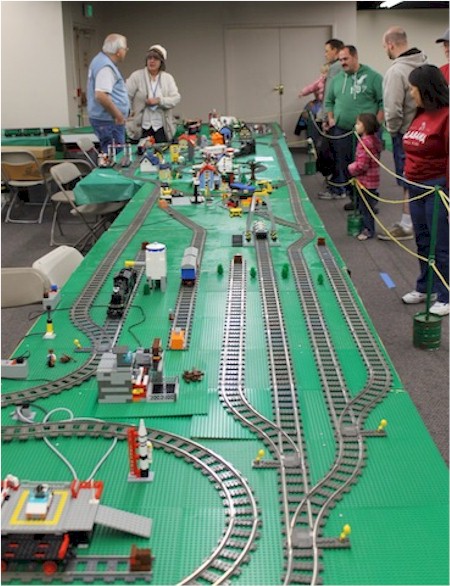 LEGO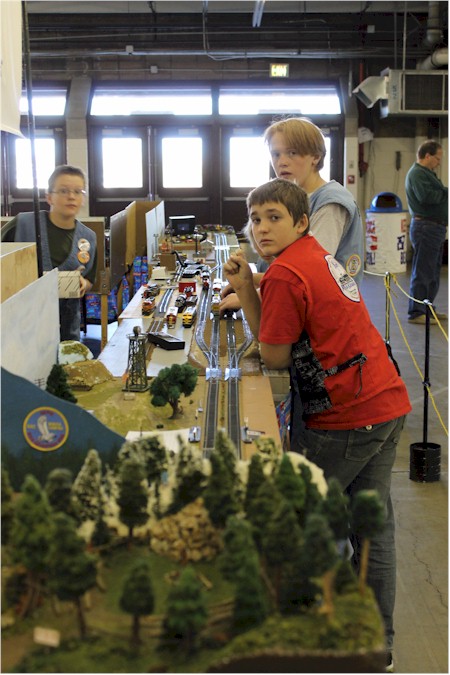 ---
Cunningham N Scale Layout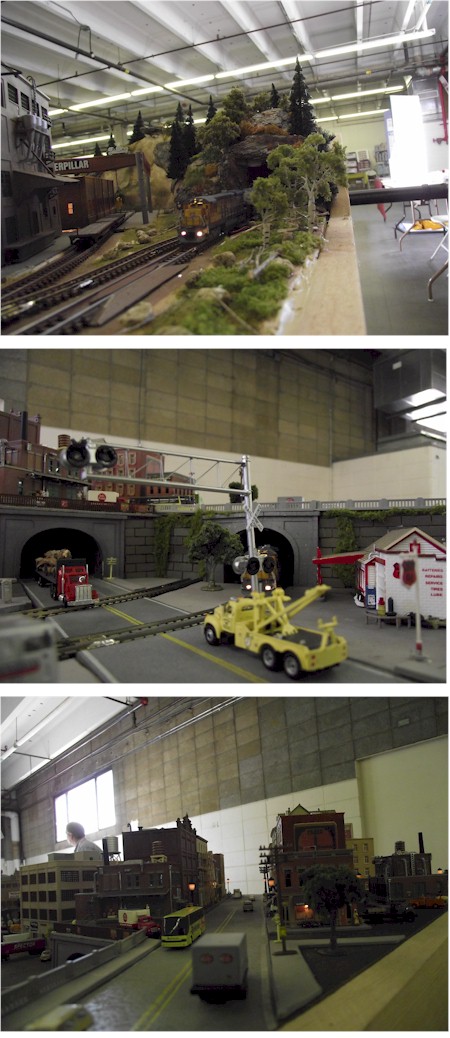 ---